Comic Con 2011 tickets go on sale this Saturday Feb 5th at 9:00am PST. Get your six shooters ready because that's high noon (EST) for us East coasters. Click here when it's time.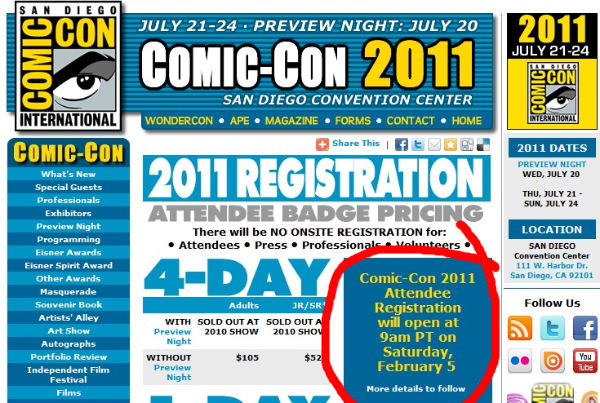 How to prepare for battle (aka getting a ticket)
Read Matt's coverage of the process : Comic Con Tickets: A Saga
Wake up early and refreshed; patience leads to victory
Have a few computers with a solid internet connection. This is a race, and you want to win.
Have the pages loaded up before registration goes live. Hit refresh when it's time, and go from there.
Have your credit card and personal information on hand. You'll only have one shot at this, don't screw up.
Click here, and good luck
Now, why would anyone go to all this trouble for a ticket to a silly convention? Well it's everything a nerd could possibly love under 1 roof. This video pretty much sums it up. Tipping my hat to Machinima for one of the only solid 2010 coverage videos that I could find.