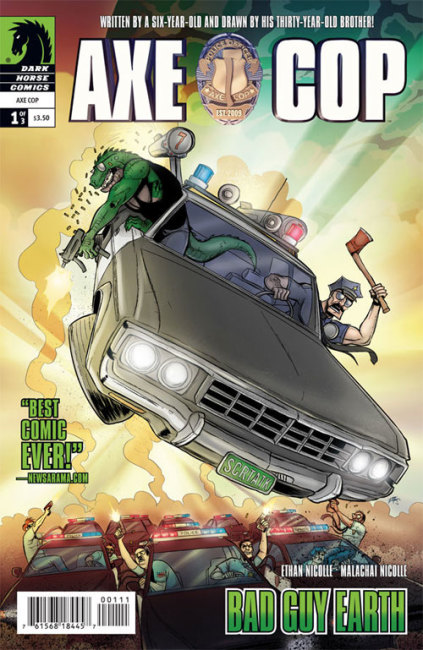 Every Tuesday I get a little pitter patter in my heart at the thought that tomorrow, I can walk into my comic shop and pick up the latest and greatest. Now I'll admit tomorrow is a little thin, but let's see what is getting released that you should be perusing (this is by no means a complete list, just a highlight of some of my fav's).
1) Batman Streets of Gotham #20: House of Hush – This series is eye candy. The covers are consistently some of my favorite each month. This is the 5th and final chapter in the House of Hush, a follow up to the Heart of Hush. I really enjoy this title, the artwork is great, the storylines are pretty classic Batman work and the Hush storyline has been pretty chaotically awesome, with re-emergence of old villians and Batman struggling to deal with Tommy Elliot and the Wayne family's secret past.
2) First Wave #6 of 6 – Another series with phenomenal artwork out of ye ol' DC camp. This is a noir-ish title featuring Batman, Doc Savage and Spririt. The writing is…well…noir. So if you are into old black and white movies then you'll dig it, I do.
3)Chew #17 – The guy has to eat things to see into their past and solve crimes, and chicken is outlawed…really, why aren't you reading this. This episode brings bullied nerd Peter Pilaf (yes, really) to the forefront of Francis Bacon High (again…really). He goes, and I quote, "goes all "food-Columbine" on the students." Do it.
4) Oz Primer #1 – Some of the most inventive artwork coming out of Marvel proper. The storylines are entertaining and most are family appropriate if you've got the little-uns running around. If you like it, I highly suggest going back and getting the hardcovers of the different series.
5) Astonishing X-Men #1 – Whhaaaaa…Astonishing X-Men is waaay past #1. Yes, ever jumping on other peoples bandwagons, Marvel is re-releasing classic issues of comics for just $1. Let's thank the lord they are doing it with Joss Whedon's epic take on X-Men. If you never read this series and wanted to dip your toes into the X-Whedonverse, I highly recommend you pick up this comic. I mean it's only a dollar.
6) Axe Cop – Bad Guy Earth #1 – The subtitle is "Written by a six-year-old and drawn by his thirty year old brother". Needless to say this is one of the most hilarious comics out there, I was suggested to check out the original series by a friend. It is AWESOME. Go check out the trade, but I wouldn't worry about continuity, jump into the new series now.
Is that it? Yep, that's all I'll be bringing home this week. Although I have been seriously considering going back into the vaults and picking up some Claremont era X-Men or maybe the Infinity Gauntlet TPB to relive a little childhood. I'll leave that part up to you.