Star Wars: The Clone Wars has quickly become one of my favorite things on television.  That feeling of raw "magic" that Star Wars made you feel as a little kid is still alive and well every Friday night on Cartoon Network. In honor of the season 3 finale we have the amazing Ashley Eckstein here on our site.  The voice of Jedi Padawan Ahsoka Tanno, Ashley has transformed Ahsoka into the heart and soul of The Clone Wars.  And while we may already know the fates of Anakin, Obi Wan, and Yoda, Ahsoka's future remains a total mystery. When not saving the galaxy from the dark side, Ashley is helping run "Her Universe", an ultra-cool clothing company for female fans of science fiction.  The force is strong with this one!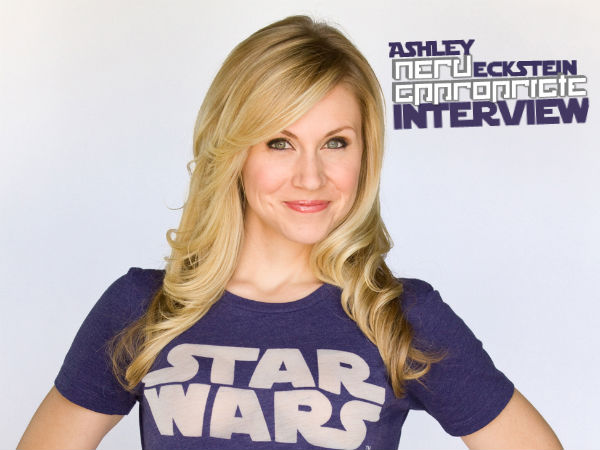 NA-Ash: Ashley, thanks so much. We are huge fans of Ahsoka and The Clone Wars here at NerdAppropriate.com. Season 3 was amazing, my favorite so far. What is your take on Season 3?
Ashley: Thank you for your support of The Clone Wars! I am really happy with Season 3. I think this season has raised the bar from the past two seasons and also for television animation. Dave Filoni and his crew are achieving things that have never been done before on television.
NA-Ash:  I have a confession to make. When I saw Star Wars: The Clone Wars in the theatres I wasn't 100% sold on the character of Ahsoka. I wanted to apologize to you for that. She has quickly shaped up to become one of my favorite characters in the Star Wars universe.  How do you feel Ahsoka has changed since the show's inception?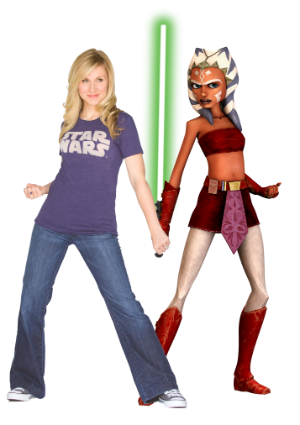 Ashley: Thank you for your honesty and no need for an apology! A lot of people felt that way in the beginning, and to be honest with you, I even felt that she came on a little strong in the movie. The movie was actually three or four episodes put together as one. They were written as separate episodes, so when you watched them all together the nicknames and sarcastic quips were a bit much. However, once the movie came out in theatres, we had already recorded the entire first season and I knew that over the course of the season Ahsoka would grow up a lot. I just asked fans for their patience as they watched her mature. I think over the first three seasons we've seen Ahsoka become the padawan that everyone hoped she would be. Now she is less of the sassy sidekick and more like one of the gang. She has really earned the respect of the Jedi.
NA-Ash:  I couldn't agree with you more.  On a more personal note, I love that you chased your dreams of fashion design and started Her Universe. It really is a great project. Where would you like to see Her Universe in five years time?
Ashley: Thank you for your support for Her Universe! I have always been into fashion and design. I helped design my first dress when I was 10 and as a hobby I have been creating new designs ever since. It really is a dream come true that I am able to turn my hobby into a business. I founded Her Universe because I felt that female sci-fi fans needed a platform and a place to step into the spotlight and say that sci-fi is not just for guys, it's for everyone. I hope that five years from now, Her Universe will have a place in retail outlets so that female sci-fi fans will have the opportunity to walk into stores and have the same amount of merchandise options to buy that the guys do. I also hope that we will be creating our own sci-fi stories. I already have my own female superhero story that I am working on.
NA-Ash: That's great!  We can't wait to see it.  NerdAppropriate.com is based out of Orlando FL, where you grew up. What was it like growing up here, and what were some of your old haunts?
Ashley: I LOVE Orlando! In my heart, Orlando will always be my home. My Dad worked for Disney World for over 15 years. Also, my first job was at Disney World and I also had my wedding reception at Disney. So I think it goes without saying that my favorite place in Orlando is Disney World! However, there are many places that hold a special place in my heart. I practically grew up at the Civic Theatre of Central Florida, which is now called The Orlando Repertory Theatre, and that's where I got my start in acting when I played Helen Keller in The Miracle Worker. I also have many favorite places to eat in Orlando. My husband and I LOVE the pizza at Positanos and I am so excited that Orlando now has a Pinkberry!
NA-Ash:  You know, I haven't tried Positanos yet.  I'll have to go this week for sure.  Okay back to some Clone Wars.  The sad thing about The Clone Wars is that it has a definitive ending. One of the great mysteries is the fate of Ahsoka Tano. If you had to guess and/or choose her fate, what would it be? ( I personally think she should take a mission on the outer rim and live happy ever after )
Ashley: I have nothing to do with the writing of The Clone Wars but I trust Dave Filoni and his team to write the best outcome for the overall story. I will be happy with whatever happens.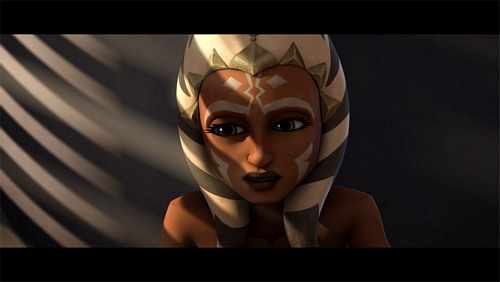 NA-Ash:  Understood!  We had the pleasure of seeing the voice actor's panel at Star Wars Celebration V. Seeing the whole cast perform live was a nerd's dream come true.  How crazy is it performing Ahsoka in front of a live audience?
Ashley: It's always a surreal moment when we get to step out from behind the microphone and perform our characters live for an audience. I am so excited to be able to have the opportunity to host The Clone Wars: Behind The Force show again this year for Disney's Star Wars Weekends. It's going to be an amazing event this year with the opening of the new Star Tours ride! It's the last two weekends of May and the first two weekends in June, you do not want to miss this event!
NA-Ash:  Oh we'll be there for sure!  We also read that Her Universe is going to be at Comic Con 2011.  What do you and Her Universe have planned for the convention?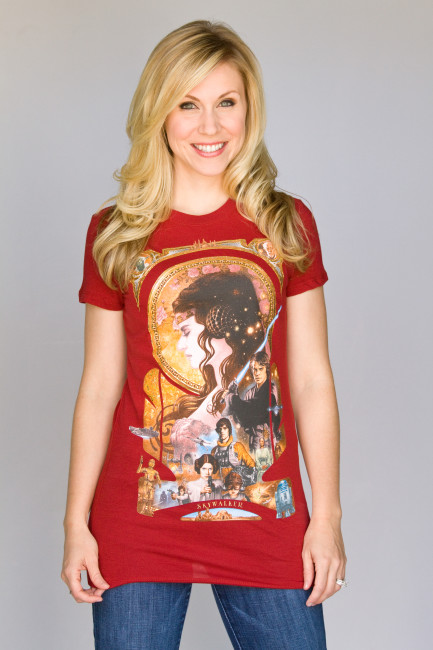 Ashley: Yes, I am so excited to to go to San Diego Comic Con this year! Our Her Universe booth will be located in the Lucasfilm Pavilion again this year. We will have new Star Wars products available, as well as Syfy products! I am so excited that we have partnered with Syfy and that we are going to have products for the Syfy brand as well as their shows like Battlestar Galactica!  I also hope to host another panel. Last year we had a panel about women in sci-fi and we had some fantastic guests like Jane Espenson!
NA-Ash:  We're huge fans of the super talented Jane Espenson as well.  On another note, there is a long rumored Star Wars live action series that may one day become a reality. Would you have any desire to be involved in a live action Star Wars project?
Ashley: I would be honored to be a part of any Star Wars project in the future. Lucasfilm is an amazing company to work for!
NA-Ash: We also covered Katie's story here at our site. What advice do you have for your female fans that may be a bit shy or intimidated about following their dreams and/or just being a nerd?
Ashley: During the main event at Celebration V, George Lucas said something to the effect that, No one will believe in you if you do not believe in yourself. That really struck a chord with me and he is exactly right. Confidence is an attractive quality and people will gravitate towards you if you are confident in yourself. Be proud of who you are and believe in yourself and your destiny. Don't make excuses for who you are or what you like. A bully will only pick on someone that they perceive is weak. Once they know that they can't get to you or get under your skin, they will leave you alone.
NA-Ash:  Very well said, we really wish more celebrities would promote community and individuality!
NA-Ash: We see that you have something special in the works for Star Wars Weekend 2011.  Can you fill us in on what you'll be doing there?
Ashley: Yes! As mentioned above, I will be returning to Disney's Star Wars Weekends as the host of The Clone Wars: Behind The Force show. I am so excited to be back this year. There are going to be some AMAZING guests!!!!
NA-Ash: (waves hand in front of face) You will tell me who these guests are…. (nothing happens)
Ashley: I'm not allowed to say who, but you definitely do not want to miss the event this year! You are in store for a couple of surprises! We are also going to be selling some of our Her Universe shirts at Disney for the first time! We are unveiling two new shirts at the event this year, as well as offering kids sizes in two of our shirts for the first time!
NA-Ash: On behalf of myself and the rest of NerdAppropriate.com, we sincerely thank you for being part of something we truly love. Any final words of Jedi wisdom?
Ashley: Thank you so much for your support! Her Universe would not even exist if it weren't for the fans and The Clone Wars continues to grow because of our fans! As for final words, I'll leave you with my favorite quote because anything is possible. "Don't Dream It. Be It."
__________________________
Follow Ashley on Twitter
Follow Nerd Appropriate on Twitter
Follow Ash on Twitter