Caitlin Crosby is a singer/songwriter/actress who also happens to be one half of the musical duo Crosby Skills and Nash. Yes you read that correctly, SKILLS and Nash. On top of writing and performing her own music, Caitlin is also an accomplished actress and the co-founder of two unique web-projects The Giving Keys, and Love your Flawz. In our opinion there is nothing cooler than people using their talent to promote positive self image and community. Check out our chat with Caitlin Crosby, which to my knowledge is the only interview we've ever done with someone on a jet.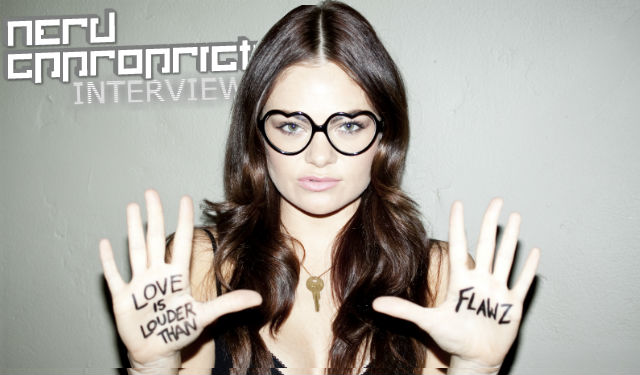 NA-Ash: Caitlin, thanks for talking with us! How's your day going so far?
Caitlin: Great, thanks. I'm currently on an airplane to Nashville. 🙂
NA-Ash: Awesome, this may end up being the first interview we've done that was written at over 600 mph! As a singer-songwriter we've read that you pull inspiration from an extremely wide variety of sources. What is your writing process like? Do you lock yourself away in a dark corner, or, do you drag a lap-tap down to Starbucks and caffeinate yourself into oblivion?
Caitlin: I usually have to be feeling something pretty heavy on my heart in order to start. I'll simply grab my journal, guitar & begin to record ideas into a voice recording app on my iPhone. Oh and I usually light a candle 🙂
NA-Ash: We know that you've been interested in music since you were very young. Your latest project Crosby Skills and Nash is generating a lot of positive buzz. Can you tell us how the band got started and if you've had to experience an awkward moment of people looking for "that other band" while at one of your shows?