Certain concepts sound like a disaster waiting to happen.  Mixing a class based first person shooter with the Batman franchise shouldn't work…  but it does.
I would venture to say that Gotham City Impostors has been my biggest surprise thus far at this year's PAX.  I've known about GSI for a while now, but it was never really on my bat-radar… so to speak. Developed by the folks at Monolith studios as a downloadable title( PC, 360, PS3), GSI attempts to inject a little bit of humor and fun into the first person shooter arena.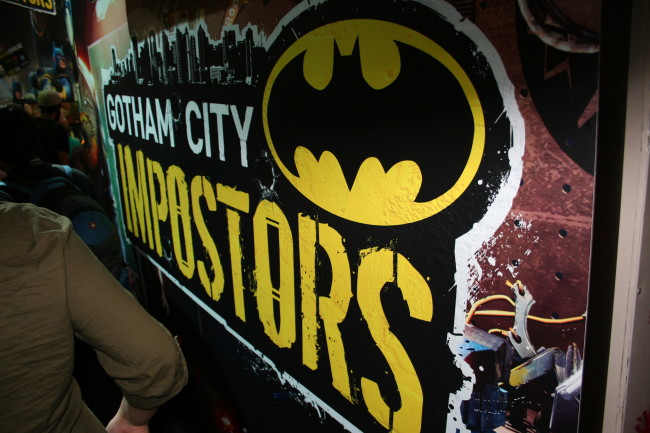 Hands On:  GSI is a loose class based shooter that enables you to tweak out your characters attributes and weapon load-out, until you're fully satisfied.  The folks at WB claimed that there would be close to 1000 levels of player advancement and thousands of character customization options.  I picked up the 360 controller and cycled through a variety of weapon load-outs finally deciding on invisibility serum, a rocket launcher, and a machine gun of sorts.  Other abilities I saw my allies use included a grappling hook and a hang glider.  The map was fun and easy to navigate and the gameplay was surprisingly tight and with weapons having the same "weight" and "feel" as Borderlands ( a compliment).
A Modern Mod: Gotham City Impostors very much reminded me of a modded game of old.  Back when I was heavily into PC gaming, there were some incredible mods for PC shooters that did a great job of warping your favorite titles into twisted versions of themselves (long live Killer Commando).  While GSI was a incredible blast to play, it felt as though I had already played it in some capacity.  Again, not a bad thing, but not entirely innovative either.  To be honest I didn't realize how much I missed these mods which I'm sure are still incredible on PC.
Jokers Win:  My team of Jokers made quick work of the Bats and we were rewarded with a fancy GSI T-Shirt and a card with some information about the upcoming September beta test.  After getting my hands on the game I feel bad for dismissing it when I first read the concept.  Check it out when it becomes available in early 2012. "Gotham City Impostors will be available for download on the PC, PlayStation Network and Xbox LIVE in 2012. So get that trigger finger nice and itchy, smear on some clown makeup or don your homemade cowl, because it's time to take Gotham!".