I've always been a collector. For over a decade it was comics and toys, followed by DVDs and other nonsense. While I've cut down on the number of items I currently collect (sorry comics and toys), I do on occasion fork up good money for something truly special.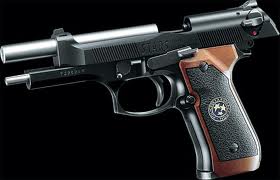 One of my most prized possessions is, without doubt, my replica Samuari Edge pistol from the Resident Evil series. To say I'm a fan of Resident Evil is a bit of an understatement. As a matter of fact I may actually have an Umbrella Incorporated tramp stamp (sexy) that sheepishly hides beneath my belt line. For those that don't recall, the Samurai Edge was Jill Valentine's (interview) trusty sidearm that she used to face off against an army of the undead (and bad dialog). I had searched endlessly for my own Samurai Edge replica as a young naive gamer, and even managed to order not one, but TWO forgeries from E-Bay. After nearly giving up, I found a seller on the other side of the country that was willing to part with his pistol. Not knowing if this was real or another setup…  I went for it.  Much to my surprise the seller lived in the same neighborhood as my best friend over 2000 miles away (fate!).  Being the best friend that he is Mark agreed to meet with the seller and make the trade. After surviving what was referred to as a "shady meeting" , the actual Samuari Edge replica was on its way across the country to proudly sit on my shelf. While I agree that some "stuff" is just "stuff", there are items in all of our collections that are quite special.
What collectibles do you own that you would never part with? What Collectibles have you been looking for that you have yet to find? Let us know!