The demo for Kingdom's of Amalur krept its way onto the internet yesterday, and you know what… I'm sold.  When I first saw images of Amalur last year I was a bit skeptical.  I've seen many projects developed by "dream teams" that left much to be desired.  The team behind Amalur is a bit absurd, with NY Times best selling author R.A. Salvatore, comic god Todd McFarlane, and the Gandalf of gaming, Ken Rolston, all lending their particular talents to the project. The final result is actually something quite special.  Heck, with names like that at their "round table", how could it not be?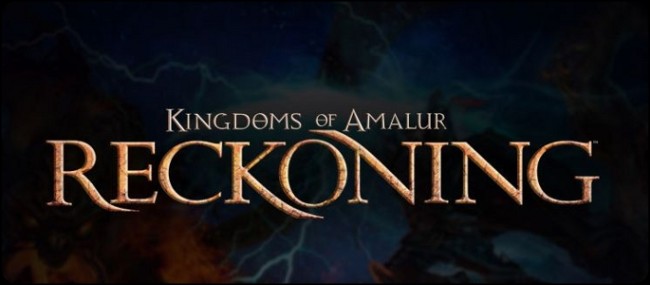 Character Creation: Character creation is a rather limited compared to what studios like Bethesda and Bioware have done in recent years, but is by no means inadequate.  Players will have the option to choose between four different races, both of which have male and female versions.  The character models are well detailed and look great during the game's in-engine cutscenes.  Characters are well animated and fun to look at, and we all know how  important that can be.
No Voice:  Sadly, Amalur follows in the footsteps of Bethesda and does not feature a voiced protagonist.  While this may not seem like a big deal to some players, I very much enjoy hearing my avatar spout lines of dialog ala-Shepard.  While the main avatar didn't utter a peep, the rest of the voice acting was well done, and was by no means distracting (as bad voice acting can often be).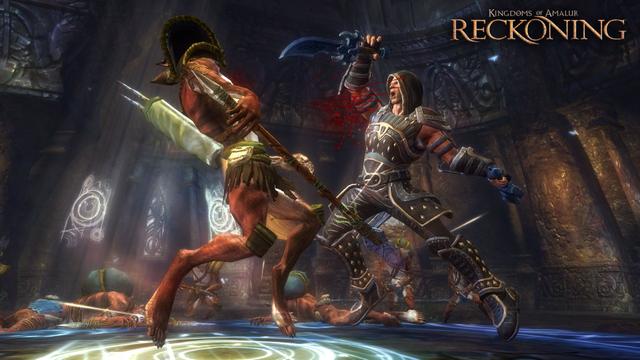 Hack-Slash-Magic Missile: The weapons in the demo all feel great and the stealth combat was especially enjoyable with some very nice execution animation.  While some of the designer's choices were odd, such as the player's shield appearing out of thin air, the overall feel of the combat is quite good and was highly reminiscent of DA:2's melee system.
I wasn't expecting to enjoy Amalur as much as I did.  Let's just hope the narrative is strong enough to support the boasted 100+ hours of gameplay.
PRESS RELEASE:
Set in an entirely new universe crafted by New York Times best-selling author R. A. Salvatore, Kingdoms of Amalur: Reckoning is brought to life visually through the trademark visceral style of renowned artist and Spawn creator Todd McFarlane. With a sprawling explorable world and deep RPG gameplay at its core, Kingdoms of Amalur: Reckoning adds a new level of intense action combat to the genre and a one-of-a-kind advancement system as players unfold and evolve their destiny through constant character customization. Kingdoms of Amalur: Reckoning is being developed under the creative leadership of Ken Rolston, lead designer of the critically acclaimed open-world RPGs Elder Scrolls III: Morrowind and Elder Scrolls IV: Oblivion.
Developed by 38 Studios subsidiary Big Huge Games in Baltimore, Maryland and 38 Studios in Providence, Rhode Island: Kingdoms of Amalur: Reckoning will be available on February 7, 2012 in North America and on February 10, 2012 inEurope on the Xbox 360® video game and entertainment system, PlayStation®3 computer entertainment system and PC. Learn more about Kingdoms of Amalur: Reckoning by visiting www.reckoning.com or follow us on Facebook(http://facebook.com/ReckoningTheGame) and on Twitter (http://twitter.com/ReckoningGame).

Follow us on Twitter for a free cup of coffee at PAX: East