Hero Academy has become a bit of an obsession here at Nerd Appropriate HQ. Creators of Orcs Must Die, Robot Entertainment have managed to craft an incredibly fun and addicting asynchronous iOS strategy game. Like any great strategy game, Hero Academy is simple to learn, but challenging to master.  Game play is an epinephrine infused game of chess, mixed with the random nature of Magic the Gathering. For those that haven't gotten to try Hero Academy it's 100% free to play, with a few exceptions; player icons, colors, and bonus armies will cost you a few bucks (and will also remove the ads), but the free version game is totally functional.  The folks at Robot Entertainment recently announced the third playable army, The Dwarves who will be available for download next week on February 22nd ($1.99)!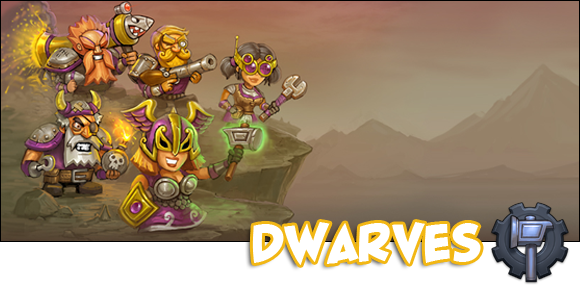 From Robot's Blog: Robot Entertainment has announced that the next team to enter the Hero Academy will be the crafty dwarves. Handy with gunpowder, the dwarves excel at inflicting explosive damage to crystals and any enemy units caught in their blast radius. The release of the new heroic team will be accompanied by dwarf avatars as well as a dwarf-inspired playing field that features a new crystal layout and exciting new Teleporter premium squares. Gamecenter is also coming to Hero Academy with support for achievements and leaderboards! The update will be available for download on February 22, 2012.
Dwarves Roster
PALADIN
(Class: Fighter) – Holy warrior who can heal and revive allies, healing herself in the process.
GUNNER
(Class: Shooter) – Shooter who deals high damage to a nearby enemy. AOE damage at range.
GRENADIER
(Class: Caster) – Lobs molotovs over enemies for AOE damage. Weak melee attack.
ENGINEER
(Class: Support) – Shields a single ally/crystal. Higher bonus from premium squares.
ANNIHILATOR
(Class: Super Unit) – Deals heavy damage with AOE knockback. Direct hits weaken physical defenses.