If you keep up on your video game news, you've probably heard the name Jessica Nigri.  Earlier this year, Jessica was the center of a convention-controversy when she was asked to leave the Penny Arcade Expo floor for having a costume that was a bit too revealing. Jessica recently wrapped up a massive promotional tour for Grasshopper Manufature's Lollipop Chainsaw, where she traveled the globe portraying the zombie slayer Juliet Starling.  She loves Gears of War, guac on her burrito, and has hobbies too nerdy to even discuss.  Enjoy our revealing chat with Jessica Nigri!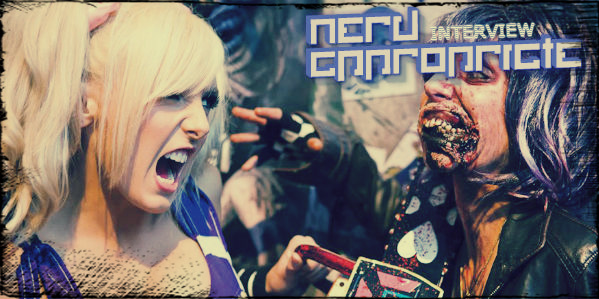 Ash: Welcome Jessica! How's it going today? Getting geared up for San Diego Comic-Con?
Jessica Nigri: It's going okay! Just ordering some last minute supplies so that I'll be ready. I do get a little stressed for this con because it is easily one of the greatest cons in history.
Ash: So our spies tell us that you started cosplaying back in 2009 and received a lot of attention for your Pikachu costume at San Diego Comic Con. What made you take the plunge and dress up that year?
Jessica Nigri: Oh shoot, I have always been a fan of Pokemon and all things nerd!  I had NO IDEA WHAT COSPLAY WAS! (laughs) So when I dressed up I was like "oh snaps… Where did all these people… OH GOD MY EYES ARE BURNING FROM THE FLASHES!"  Honestly it was my good friend Luke who suggested that I should dress up! (He got me the tickets and is an aspiring movie director guy, check out Alone Wolf Productions)
Ash:  You make all of your own costumes correct? When did you discover that you had a talent for design?
Jessica Nigri: Well my mum actually makes hats and costumes for the Kentucky Derby and she had always dressed me up in fish tails, vacuum tubes, and all sorts of random things.  My father is also a flurry of artistic talent.  I get it from them, and they actually taught me all the basics! I wouldn't be anything without them (smile).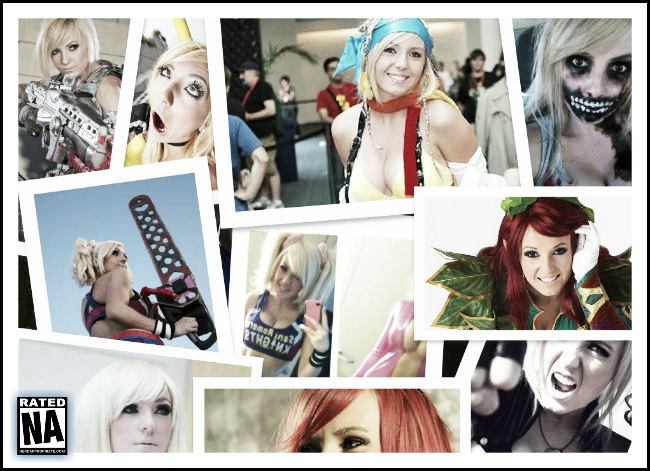 Ash: We know that you love to game. What are some of your favorite games, franchises, and studios?
Jessica Nigri:  Bethesda owns my soul, and so does Valve. I love the epicness of Bethesda and the dark humor of Valve!  Because of the Gears of War series, Epic games will always hold a place in my heart as my favorite.
Ash: We're big fans of Gears as well. Glad it's coming back!
Jessica Nigri: HOLY BUTTS, I love me some Gears. Although currently I am digging Gravity Rush on my Playstation Vita! The dynamics of this game are out of this world.
Ash: Virtually every gaming publication on the planet Earth featured a picture of you as Lollipop Chainsaw's Juliet Starling. How did you become involved with the franchise, and what were some of the highlights of your adventures as Juliet?
Jessica Nigri: IGN and Warner Bros held a search for Juliet contest, and I had already made the costume without prior knowledge of the competition for the Amazing Arizona Comic-Con (a fantastic convention held in January in Arizona, I highly recommend it). I went and auditioned, and the people voted! Thank you my people!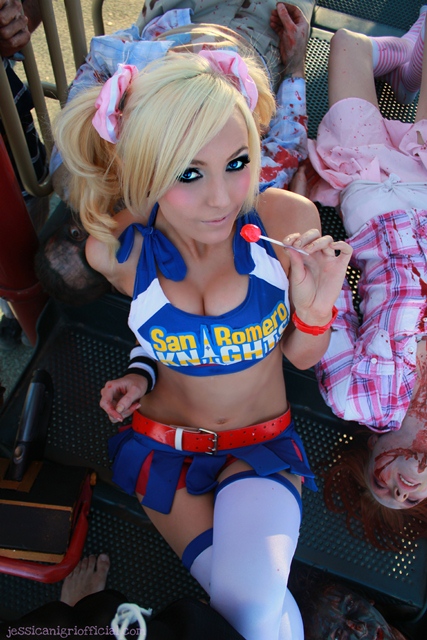 Ash: The Penny Arcade Expo has a fairly strict "no booth babes" policy. Can you explain to our readers what went down this year with you at PAX: East, and perhaps your opinion on the situation?
Jessica Nigri: They were very kind about it! They just told me to change and I came back and enjoyed (the rest of) the convention. We were just confused because I'm actually a gamer and technically not a booth babe (laughs).
Ash: Were you prepared for the media explosion that happened as a result of your being asked to leave the floor? Every gaming site and podcast covered the story (including our own podcast Rated NA).
Jessica Nigri: Heck no, but it was wonderful publicity for the game.
Ash: Now that Lollipop Chainsaw has shipped, are the any other characters that you'd love to play at future cons? 
Jessica Nigri: ERMAGERD!  You'll see at San Diego Comic-Con this year!
Ash: Other than the PAX: East situation, what are some of your favorite and most bizarre convention memories? (We can handle it)
Jessica Nigri: Actually, I have so many that they all just kind of blur into one awesome epic high five/sweaty hug/hover hug/awkward stare/ etc etc etc.. (laughs)
Ash: Speaking of conventions… Which conventions do you plan on attending in coming months, and where can folks find you?
Jessica Nigri: I'll be at San Diego Comic Con, Dragon Con, Anime Revolution, and have some others (to announce) soon.
Ash: Our signature Nerd Appropriate question. What are some of your nerdy hobbies or interests that you're almost too embarrassed to share with our readers?
Jessica Nigri: Pffft… I don't have any… Oh wait… No, I'm not saying.
Ash: Wow, you're the first person to actually dodge that question.  It's now my mission to harass you until we find out… (laugh)
Ash: Okay the lightning round! List your favorite…
Burrito ingredients: Chicken, guacamole, corn, cheese, sour cream.
Science fiction film: Dune
Concert attended: Legend Of Zelda Symphony
Foreign language: Japanese
Gears of War character: Anya and Marcus on top of each other… Wait… What?
Ash: Jessica, thanks so much for answering our questions. We look forward to seeing you at SDCC, and perhaps you'll join us on our podcast Rated NA one of these days! Oh yeah, let our readers know where they can find you on the interwebs ?
Jessica Nigri: I Hope so! Good bye! Facebook www.facebook.com/jessicanigrifanpage , Web Page www.jessicanigriofficial.com , Twitter  www.Twitter.com/OJessicaNigri
Keep an eye out for Jessica at this year's San Diego Comic-Con International where hopefully we can get her to spill her guts about her secret nerdy hobbies and passions.  Nerd Appropriate will also be covering the event, so be sure to follow our Twitter feed for all sorts of convention mischief and mayhem.