Heads up Metroidvania fans, Boston's Suppressive Fire Games is currently hard at work on Blood Alloy, a rad looking platformer with a cybernetic female protagonist (yes!). Blood Alloy is currently being developed by a few former developers from Harmonix and a brain trust of designers from all over the cosmos. Lead Designer Frank Wash states "Blood Alloy's combat is defined by the application of Dark Soul's stamina-based combat mechanics to gunplay. Discharging your weapon, blocking attacks with your hardlight shield, dodging, and using special abilities all consume your ever-replenishing cybernetic energy reserves. It is up to you whether you want to play aggressively, evasively, or defensively. " Cool right?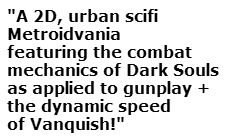 While there are a ton of platformers to choose from, Suppressive Fire is attempting to integrate a branching story-line (ala Mass Effect) and multiple endings to Blood Alloy, making the game really stand out. Blood Alloy currently has a Kickstarter campaign with a ton of great rewards and plenty of time left, be sure to drop by [HERE] and lend your support. There are some pretty incredible high tier rewards for backers including mini-boss design and 8 bit character portraits. I always wondered what I'd look like in 8-bit… hmmm (checks wallet). While you're browsing their kickstarter campaign, make sure you check out the tracks by Goncalo "Shiryu" Lopes which are incredibly well done – (scroll down and check out  500 Klicks to Algarve).  
We love what we've seen so far of Blood Alloy and can't wait to see the completed game come together. In a world littered with throwback-platformers, Blood Alloy is cybernetically-augmented with creativity.
Be sure to follow Suppressive Fire on their Twitter account [HERE].