The Surge is back and is still as fun as heck. This time the folks at Deck13 have brought to us a western-themed challenge-style expansion in The Good, The Bad, and the Augmented. For those not familiar with The Surge, it sits nicely within the so-called "souls" hardcore action RPG genre and is considered a spiritual successor to Deck13's Lords of the Fallen. What initially drew me to this game was its dystopian sci-fi aesthetic, which immediately makes it stand out among similar titles.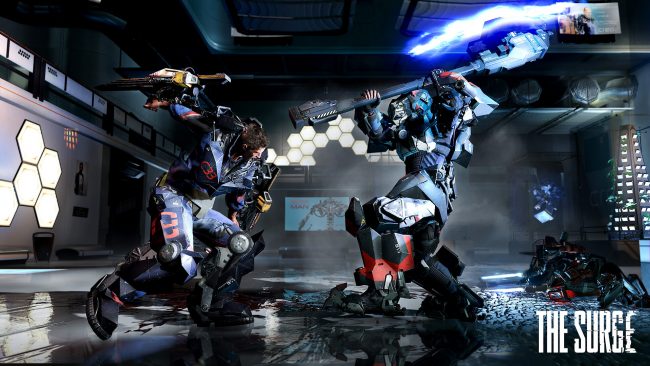 Once I started playing, I felt like this game also stands on its own in this genre. For instance, The Surge has a really fun limb-targeting system (think V.A.T.S. with melee in real time), which you can use to strategically dismember enemies and acquire their weapons and armor. So, what better way to expand upon an already addicting game with a western sci-fi mashup… entirely appropriate given the recent reSURGEnce (see what I did there) of Western settings in media such as Westworld and that other mildly popular western game.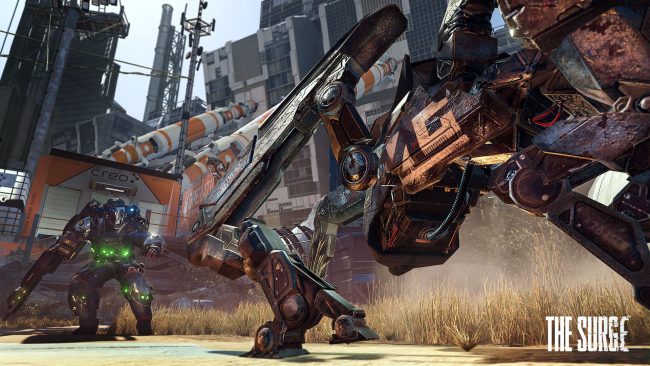 For me, the real measure of the Surge is this: Since it's release its never really left my rotation. I've returned to it every couple of months or so to try and push a bit further into the game. I wouldn't even call myself a fan of this genre, but I am a fan of The Surge and that feeling of wanting to play one more round is the secret sauce in the game. Of course, the hardcore genre is not for everyone, but I would encourage anyone with an itch for an melee action game to give it a shot. The fact that the game can be hard at first is what sets you up for that awesome feeling later on. There's a wonderful sense of accomplishment waiting in The Surge every time you manage to battle far enough to unlock a shortcut in a level, beat a boss, or find a new piece of gear. Thematically, one of the things I tended to struggle with was how gritty the game could feel at times, especially after a few unlucky runs.
Enter: The Good, the Bad, and the Augmented. This is set up a little differently from the rest of the game. It plays out in a series of episodes, with a whole new crop of baddies waiting for you at the end of each. And those new boss fights feel a bit more wild and over the top than the ones in the core game reminding me, at times, of something I'd see in a Suda 51 game (or something equally as strange like The Running Man). The expansion is presented as a testing chamber rather than part of the main narrative, which makes from a welcome departure from the main campaign, or something more to dive into after you've completed it. Of course there is a bunch of new and interesting gear to acquire too!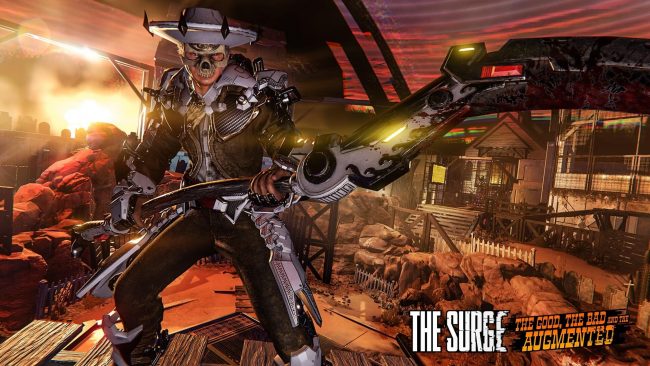 What I really liked about this expansion, however, is the introduction of a bit more levity into the game. A narrator, of sorts, brings a bit of humor. Secondly, each run of an episode can be attempted with "modifiers", some make the game harder, some easier, and some are just there for your amusement. You can also collect coins within each episode, that give you multiple "lives" in trying to defeat episode bosses. (Or, you can duck out of an episode right before a boss fight to bank your winnings.) This brings some new twists to The Surge that weren't really there before. It is definitely still challenging, but its almost like the hardcore-ness of the game is dialed back just a bit so the player can really just get in this expansion, experiment with the game, and have fun with all of the gear you've amassed throughout the game and in this expansion. 30 new pieces of equipment in all (weapons, armor, augments) are waiting to be found… or, you know, dismembered from enemies. It's a blast.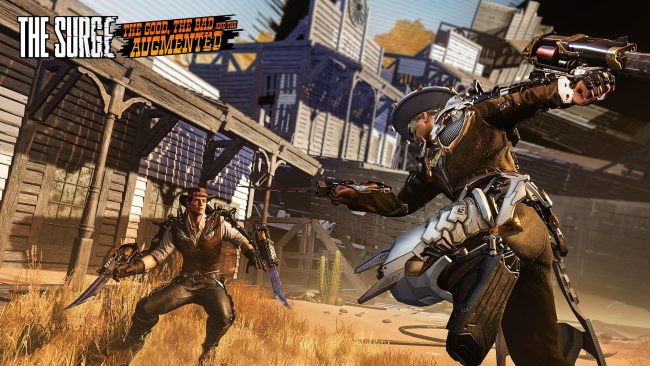 Its crazy, really; The Surge came out about 1.5 years ago. The first expansion, A Walk in the Park, followed at the end of 2017; and now, almost a year later we get The Good, The Bad, and The Augmented. Deck13 is already working on The Surge 2 for 2019, so this is an awesome time to dive into this surprising game and the franchise that is building around it! You can get the expansion if you already have the game, or go for the complete version of The Surge (Augmented Edition) on all platforms which includes both expansions and other DLC goodies for a very reasonable price.
Happy Gaming!