We have some great news to share! Rated NA has once again been selected as one of the featured podcasts of Star Wars: Celebration, this year taking place in Chicago in mid-April. For those of you attending the event we'll have all sorts of surprises to share during our live show and will do our very best to fill our hour with great guests and Star Wars goodies. If you do happen to be attending Star Wars Celebration this year, let us know and we'll reserve you a seat and save you whatever swag we bring to the event! Reach out on social media and let us know. We'll be updating this post in the coming weeks with more information, including the date/time and location of our live show.
– Try Audible and get a free audiobook download
– Subscribe to us on Twitch and follow us on Mixer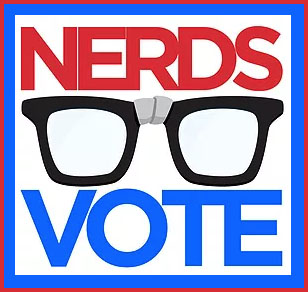 Want to help change the world? NerdsVote is a group of notable nerds linking cosplayers, gamers, pop culture fans, and nerds of all kinds to voter registration opportunities in the U.S.! To find out how you can use your powers for good and do more to help out (or to get some great NerdsVote swag) head on over to NerdsVote.com and help make the world a bit better of a place to nerd out.